Bonapi Honey is obtained from a careful selection of honeys from around the world, subject to rigorous quality controls. This is honey from hives cared for with love and care by professional beekeepers. Beekeepers who later trust us to deliver it to customers, so they can enjoy nature in every spoonful.
There are two ranges of honey within this brand, one of them focused on retail, that is, the final consumer; while the other goes to the HORECA channel.
Within retail there are different varieties of honey: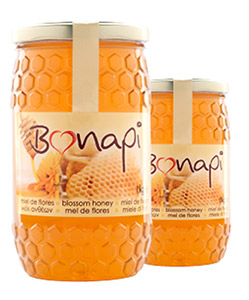 Bonapi Flowers
Honeys of a more or less intense amber color, with a powerful floral aroma and a soft taste that evokes wild plants. This type of honey is frequently used to control cholesterol and reduce throat discomfort.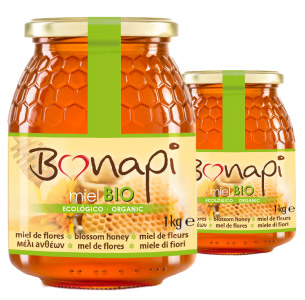 Bonapi Organic Honey
The organic or organic honey that we offer at Maes Honey is flower honey. It has followed strict quality controls that certify that the entire process has been adequate, from the hive to packaging, guaranteeing good practices and that the bees have collected pollen from plants that guarantee that they have not had contact with chemicals. They are multifloral honeys with low productions from organic beekeeping.
On the other hand, for the HORECA channel, excellent quality flower honey is also packaged. Our Bonapi honey has floral aromas, soft but persistent.
The range of this honey is very wide because it addresses two channels. For this reason, you can buy honey packaged in anti-drip dispensers (350 gr, 450 gr, 500 gr and 750 gr), in glass jars (375 g, 500 gr, 1 kg) or in industrial formats such as cubes (1 kg, 2kg, 3kg and 5kg).
All honey is rigorously selected with the strictest quality parameters.
Due to the properties of Bonapi honey, it is recommended to consume one tablespoon daily, preferably during breakfast. This will strengthen the body and help prevent infections, while also leaving a pleasant flavor.
How Bonapi honey is produced
Bonapi Honey is obtained by obtaining the pollen that bees collect from flowers. Therefore, very varied honeys are obtained, where we can find nectar from one or more flowers.
Thus, in Bonapi flower honey we can find pollen from different flowers.
On the other hand, regarding monofloral honeys, the collection is the same as for flower honey, but in this case the predominant pollen must be that of a certain type of flower. For example, in the case of orange tree honey there must be a minimum percentage of pollen from the orange blossom flower.
For the development of these honeys, the importance of the climate stands out, since spring weather is required to be able to collect it.